Alver-Stones memorial headstones: our history
The Dowdell family, owners of Alver-Stones, has provided memorial headstones in Portsmouth for five generations. Jonathan William Dowdell dedicated himself to the trade in the late 1800s and, today, his great great grandson runs the family business on Alver Road.
Jonathan Dowdell passed down the family trade to his son Earl Sidney Dowdell, who went on to establish Buckingham Brothers Funeral Directors & Monumental Masons on Fratton Road in Portsmouth. As the company grew, it was decided to split it between two sites.
Alver-Stones memorial stones gets its name
In 1930, the monumental masonry business was relocated to Alver Road, where it remains to this day. By this time, Earl Sidney's son Earl James Dowdell was working in the family business, having trained as an embalmer under the tutelage of the King's own embalmer in London.
In 1956, preferring stonemasonry over embalming, Earl James Dowdell bought the memorial stonemasonry business from his father, renaming it after the road in which it stood. Alver-Stones was officially born.
Taking Alver-Stones into a new era of memorial gravestones
Earl James ran Alver-Stones for many years and by 1969 his son Graham Earl Dowdell was working beside him. Graham took control of the family business in 1983 and successfully navigated it through a period of great technological advances and changes in the stonemasonry industry.
Today, Graham's son Robert Graham Dowdell is in charge of Alver-Stones, which proudly combines five generations of handcrafted monumental masonry skills with the latest digital technology to provide workmanship that is second to none.
In addition to traditional headstones, Alver-Stones also offers photo plaques, bookset memorials, grave statues, cremation memorials, animal memorials, ceramic flowers and mini kerb sets for cemeteries with restricted space.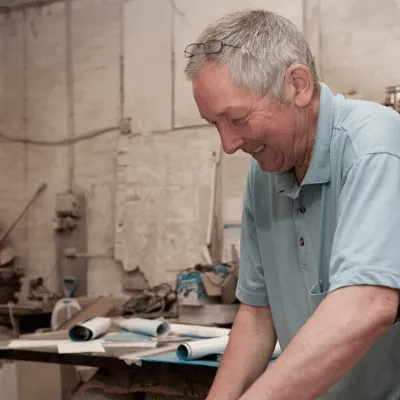 Graham Dowdell
4th Generation Stonemason - Director
Alver-Stones
Rob Dowdell
5th Generation Stonemason - Director
RQMF Memorial Fixer all aspects
Alver-Stones
Gavin D
Stonemason
RQMF Memorial Fixer and all aspects
Alver-Stones
Lee Egan
Sand Blaster
RQMF Memorial Fixer and all aspects
Alver-Stones
Lee Rogers
Lead Lettering
RQMF Memorial Fixer and all aspects
Alver-Stones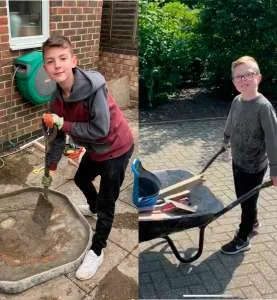 Owen & Finley Dowdell
6th Generation TBC!
Alver-Stones